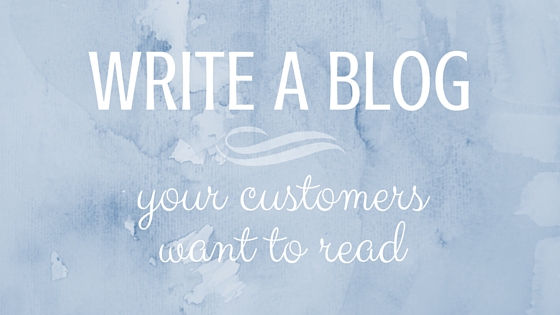 Some very successful businesses aren't blogging. I can think of many small businesses in my local area that get so much business from referrals they don't bother.
The best advice I've heard so far on whether to have one is: If you like to write and want to write a blog, write one! If you don't, there are other ways to communicate to your customers.
However, take a look at these two huge advantages of blogging:
The search engines love (good) blogs. A regular blog with valuable content can do wonders for your SEO. The more pages those search engine spiders have to crawl, the more chances your site has of being found by your prospects.
Blogging is a great way to establish your authority as an expert in your industry. That's important for building trust with prospects searching for what you offer.
Here's how to write a blog that'll gain a readership among your customers and prospects.
The best blogs are a dialogue, not a monologue
So many company blogs are nothing more than another space for advertising their services or products. They completely miss the point of a blog being a two-way conversation and creating value.
How much do you enjoy meeting a friend for lunch only to hear her talk about herself the whole time? If that keeps happening every time you meet for lunch, I'll bet you'll be looking for excuses not to meet anymore!
A blog is one of the best ways to invite feedback, suggestions and questions from your customers and prospects. Spending the time and space only talking about your business is wasting that opportunity, not to mention boring your readers. Which leads us into…
The best blogs focus on the customer, not your business
Do you know what your customers' questions are? What they like best about you? What they like least about you? Why they keep coming back, or started shopping elsewhere?
The more you know about your customers and prospects, the more customer-centered your blog posts can be. The more customer-centered your blog posts are, the more your customers and prospects will want to read them, comment on them and want to get to know you better.
The best blogs are informal and conversational
Blogging is an informal media. It's not the place for "business speak" and technical jargon. Write like you'd talk when you're meeting a friend for coffee.
The best blogs are up-to-date and published regularly
While informal is good, sporadic is not! The point of a business blog is to be part of your marketing strategy, specifically your Relationship Marketing strategy. The best relationships are built through regular, frequent and meaningful communication.
---
There are many fine books and websites on blogging for businesses. Among them are these I've either read or subscribe to:
If you choose to use it, blogging can be a great tool for inviting your customers and prospects to engage with you and your business, and for you to learn more about them. It can be a key component of your Relationship Marketing strategy.
If you'd like help starting a company blog, or keeping up with one you already have, let me know!
Save