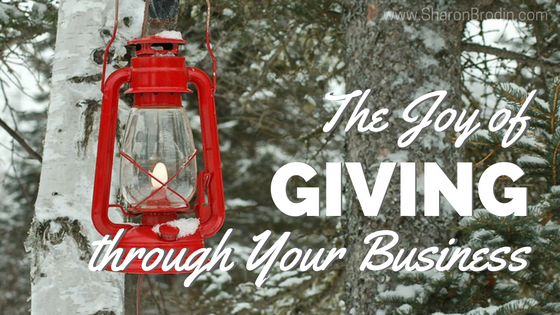 "People actually grow by giving themselves away. By caring for other people, those who give generously end up increasing the quality of their own lives."*
This isn't just a warm fuzzy sentiment. It's a documented fact. One that Mark and Barbara Koloff wholeheartedly agree with.
The Koloffs own two Meineke Car Care Centers in the northern Twin Cities of Minnesota (Columbia Heights and Ham Lake). They've become active partners with another organization, Cars for Neighbors.
How Their Partnership Began
Cars for Neighbors is a 501c3 non-profit in Anoka County, Minnesota. They donates cars and car repairs to qualifying low-income residents in their county.
In the summer of 2013, Executive Director Jim Huff had just gotten a call from their Car Care Saturday partner of 10 years. They needed to pass on the baton to another business.
Jim had recently met the Koloffs at a local Chamber of Commerce event. When he asked Mark to meet with him to talk possibilities, Mark and Barbara jumped at the chance to get involved with Cars for Neighbors. Their partnership became official in April of 2014.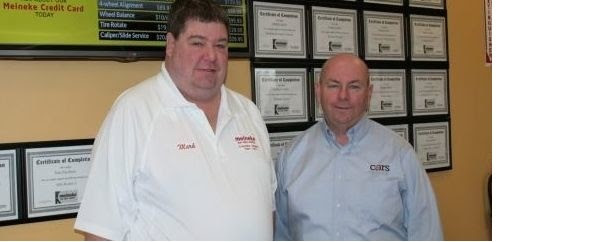 How They Work Together
Cars for Neighbors has many critical partnerships in the community. As one of them, the Koloff's Meineke shops…
Host a Car Care Saturday 10 times each year. Cars for Neighbors volunteers spend those mornings repairing donated vehicles. Meineke opens their Ham Lake shop and allows use of their lifts, space and bigger, more expensive tools without charge.
Regularly provide labor to them at about a 50% savings.
Temporarily store donated cars at their Ham Lake site. This means one location rather than several—savings in time and money on inspections.
Often handle details for Cars for Neighbors during their normal workday without charge.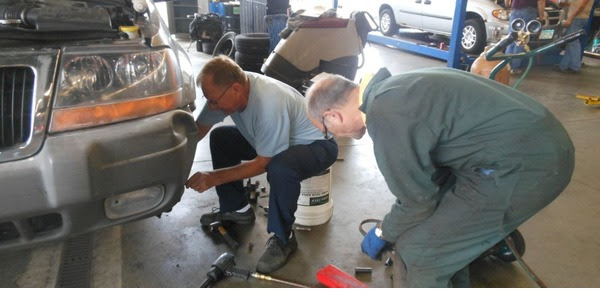 "Generous people tend to receive back goods that are even more valuable than those they gave: happiness, health, a sense of purpose in life, and personal growth."*
Why It Continues
I asked Mark and Barbara for their #1 reason they continue partnering with Cars for Neighbors. Without hesitation they answered…
"It makes you feel good to help people out…It's about helping the community…It's a very good relationship and we're glad to be a part of it."
And is it good for business? "Absolutely! We want to be known as a generous company." I don't think there's any doubt of that!
Jim stressed the family feel they've all experienced through their partnership. Exchanging invitations to holiday parties…cemented friendships…support through personal difficulties.
How Their Partnership is Benefiting their Local Community
Jim sat down one day and figured out their partnership has meant $70,000 worth of savings in labor costs for Anoka County residents who've qualified for help from Cars for Neighbors.
What a boost for those residents! Not just financial, but emotional and peace of mind. Knowing they can get to work…get their kids to school. It's a big deal.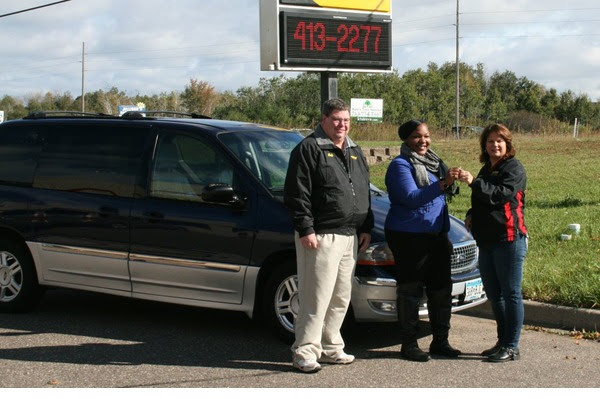 For-profit businesses have such potential to give back to both our local communities and causes far and abroad. Partnering with non-profits is one way to do that.
*"The Paradox of Generosity," Christian Smith & Hilary Davidson, © 2014 Oxford University Press.
You may also like:
https://brodinpress.com/release-your-donkey/Save
Save
Save
Save
Save
Save
Save
Save
Save
Save
Save