Being a Trusted Authority in your niche is a huge key to business success.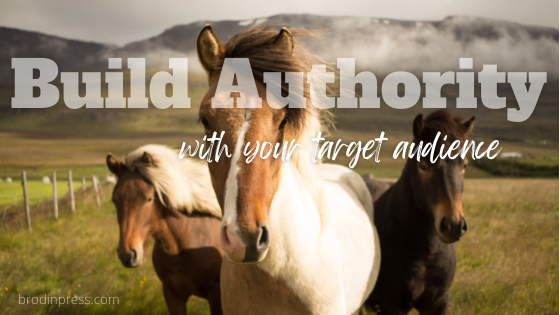 (updated October 2021)
Whether you already have some good, solid authority or have yet to build it, there are many ways your can increase your authority with your target audience no matter your business size. Some of these ways are online, some are offline.
First, what or who is an Authority?
An authority is someone others look to for answers, approval, direction, correction—someone who's a leader.
Building authority isn't a one-size-fits-all event. It's an ongoing journey that can take many forms and use a variety of tools.
Some are easier than you might think!
Here are some ways to build authority with your target audience, both online and offline:

Offer Social Proof

"Social proof" is when other people say your organization is great:
Testimonials
Word-of-mouth referrals
Honest reviews
Social media shares, likes, follows and comments
Follow up with your customers after they buy from you. When you get positive feedback, ask them for a testimonial.
Have customers sent emails or posted on social media telling about a great experience they had with your company? Reply to thank them, then ask if you can use their comments in your marketing efforts.
Happy customers are eager to share their experience. When your customers applaud your business, it increases your authority.
READ: How to Quickly Build Trust with Your Audience for more details about testimonials.
Publish Case Studies or Success Stories
A case study (or success story) is a testimonial times 10. While a testimonial might be 2-3 sentences, a case study can be 800-1,200 words. It's the story of a customer who used your product or service and was thrilled about it.
A typical case study describes:
The problem the customer faced…
How this problem caused either a personal or business struggle he couldn't solve himself…
How your product or service solved his problem and what the results were.
A case study is proof that you've made a difference for that customer. It builds your authority.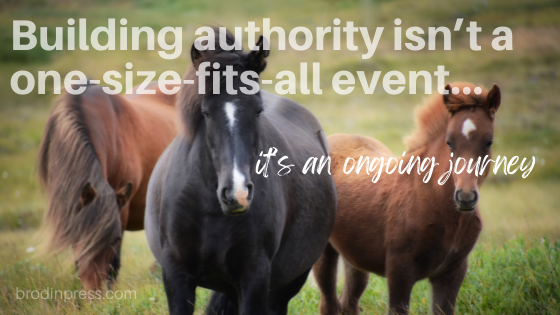 Publish Guides, Ebooks, Checklists
What do you know about your industry or niche that your target audience wants to know? How can you package it so they have easy and free access to that knowledge?
The more you offer your expertise to your audience, the more they'll come to recognize you as an authority. And you don't have to be The #1 Expert. You just need to communicate what you know to your audience and offer it to them.
(By the way, these types of publications make super lead generation free offers!)
Write Blog Posts and Articles
Between 81 and 94% of buyers research online before buying (percentage depends on who you read!). When your website has the answer to the questions your target market is asking, it sets you up as an authority in their eyes.
You can write for others, too. Write a guest post for another website. Write an article for a local newspaper or for an industry journal.
SEE: How to Know if You Need a Blog [Infographic]
Produce How-to Videos and Podcasts
Both audio and visual media is huge these days—in every market, in every niche. If you get excited about these media solutions start a YouTube channel or regular podcast.
Use these media tools to show your audience how-to and why-to. Offer information your audience wants to know. Answer their questions. Doing so demonstrates your expertise and sets you up as an authority.
Speak at an Industry Event
Do you love being in front of people? Public speaking is one of the very best ways to build your authority. Even if you don't love it, you can learn how to speak publicly. Start small.
One of the copywriting mentors I follow tells how he got a last minute chance to speak at a major industry event many years ago. He was scared stiff! But he said "Yes," changed his schedule, bought a plane ticket and spoke at the event.
It was a turning point in his career—from then on he's been looked to as an authority.
Write a Book
That's what I said—write a book! Self-publishing has reached full-term. You don't need an agent or a publisher. You don't even need to sell the book.
I hear of business owners who team up with an experienced writer and designer to self-publish a book they use as a heavyweight marketing piece (and if you can sell a few copies, all the better!).
One ghost writer for business owners calls this "the mother of all business cards."
There's something about having your name on a book—a real book with paper pages you hold in your hands—that says: This person knows enough about her/his field to write a book about it. She/he definitely is an authority.
What else?
There are other ways to build and establish your authority:
Offer interviews with media publications locally and in your industry…
Connect with and establish relationships with influencers in your industry. Interview them in a blog post, a video or a podcast…
Serve on the Board of a non-profit you believe in that's related to your industry or niche.
The point is, there are many ways to build authority. Some are easier than others. Some cost less than others. Some are more powerful than others.
Is this something you need to work on? Then take a step today. Choose one or two of these and get started.
If you already have a solid foundation of authority, how can you build higher? What's the next step you can take?
Related articles…